7 of the Funniest Workplace Christmas Party Stories
Love it or loathe it, it's a fact that we've all had to endure a work Christmas party or ten. And chances are, thanks to too much booze, crappy canapes and general festive hijinks, you've either embarrassed yourself or watched your married boss going hell for leather on the dance floor with married Jan from…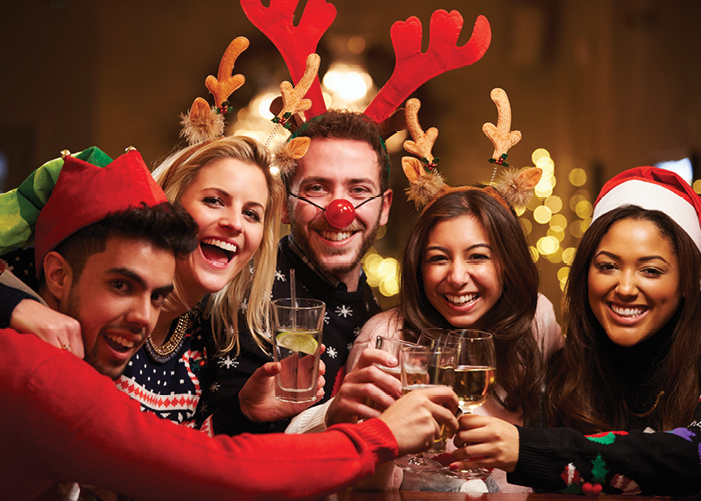 Love it or loathe it, it's a fact that we've all had to endure a work Christmas party or ten.
And chances are, thanks to too much booze, crappy canapes and general festive hijinks, you've either embarrassed yourself or watched your married boss going hell for leather on the dance floor with married Jan from accounts.
This year, Covid might put the kybosh on the office Christmas party in favour of a more senate Zoom event, but at least we can reminisce about the worst, funniest and most memorable Yuletide shindigs around. Read on for 7 shocker stories that give new meaning to the word 'silly season'.
That's one way to get a promotion
"My friend's sister got promoted after an office Christmas party because her very drunk boss managed to vomit all over her! She told him the next day and his response was, 'Oh my goodness I'm very sorry, would a promotion help? I'll buy you a new dress, too.' She ended up working for him for a while!"
Um, you're not invited
"I had a past boss who'd always have a Christmas barbeque and pool party. He'd typically invite some of the staff but not everyone, and there was never any rhyme or reason as to who was invited. They weren't the employees of the month or just the senior managers. It appeared to only be the people he liked at the time. A new person didn't realise that and thought everyone was invited and asked another woman to give her a lift. The new person then told the boss, 'I can make it, Sue will be giving me a lift to the party' and the boss said 'Sue is not invited. Please uninvite her' so the new girl had to go over and tell Sue 'I'm sorry, you're not invited to the pool party'. Great for morale."
Swimming with sharks
"We had our holiday party on a barge and a different company were having their party on the top floor. One of the female guests from that party had way too much to drink and between dinner and dessert, she stumbled down the flight of stairs. The next thing we heard was her screaming, 'Fine then! I'll just go,' and she jumped overboard into waters we all knew were shark-infested. Her date, knowing there was no way she could survive given how drunk she was (not even considering the sharks), emptied his pockets and jumped in after her. They had to stop the barge, call the police and end the trip for the rest of us. No idea what happened to the jumpers and I didn't get any dessert, but at least I have a good story to tell!"
Secret Santa fail
"It's nice to be able to have a laugh with your boss, but at our party the CEO bought the project manager a 'Project Management for Dummies' book as a secret Santa gift. Unfortunately, she didn't see the funny side, and actually left the room crying!"
Endearing yourself to the team
"I'll never forget the Christmas party I went to where a new colleague, who'd been there all of a week, got extremely drunk. One hour in, she vomited all over herself and her new team, who then carried her outside, where she promptly rolled herself up in a bunch of garbage bags and passed out."
Hypnotist hijinks
"When I was at university, I worked at a supermarket, and I'd developed a massive crush on the assistant manager (who had a girlfriend). For our Christmas party, we were all put on a party bus to the event at a plush venue a few hours away, and I ended up getting very drunk and agreed to be hypnotised as part of the show the company had organised. I was hyponotised to believe that my underwear was shrinking and I ended up removing my bra (thankfully keeping my top on) and threw it at my bosses and colleagues. Then, half a bottle of vodka later, I was busted making out with my assistant manager crush in a utility roon (while sitting in the sink topless). For weeks after the party, the assistant manager couldn't even look at me."
Too much information
"Some Christmas parties, you find out far more about your co-workers than you want to. I remember one party where a colleague of mine got so blitzed that she regaled a few of us with her past escapades in wife swapping. File that under 'things I never want to know about a coworker'."
Bottoms up
"You know people who end up using the photocopier for things other than photocopying? At one of our Christmas shindigs, we had that guy. He tried to photocopy his bum, but managed to smash the glass in the process and ended up in hospital with shards of glass sticking out of his rear end. Merry Christmas!"