6 of the Most Creative Ways to Recognise & Reward Your Employees at Christmas
6 of the Most Creative Ways to Recognise & Reward Your Employees at Christmas Even though not everyone celebrates Christmas, it makes sense to many companies to recognise and reward their efforts of their staff at this time of year. After all, it's a key milestone that signifies the end of a long year, usually…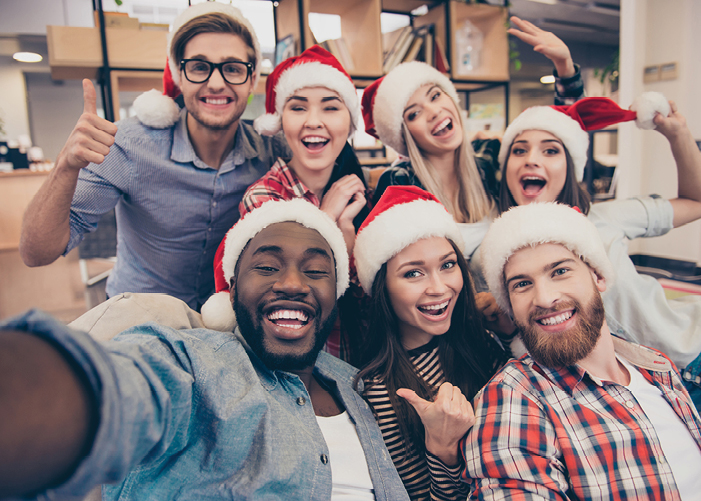 6 of the Most Creative Ways to Recognise & Reward Your Employees at Christmas
Even though not everyone celebrates Christmas, it makes sense to many companies to recognise and reward their efforts of their staff at this time of year. After all, it's a key milestone that signifies the end of a long year, usually a bit of a break from work – and the perfect time make your employees feel appreciated.
However, finding the right way to reward your employees can be tricky. Here are six great ideas to try.
1. Bump up their Christmas bonus
Budgeting for generous Christmas bonuses will always be well-received – and if you're in the position to splash the cash around, do it. Just make sure you create a tiered system for bonuses according to seniority (if you don't want to give everyone the same). And, make sure all staff are included, so no one feels left out.
2. Give a thoughtful gift
You might want to give something tangible but useful, like a Fitbit and a stylish gym bag, or a yoga mat and glass water bottle (especially to employees who like to stay in shape and would appreciate this type of gift).
3. Give the gift of time
Although some organisations need their staff on-site, if you're in a position to offer flexibility to your staff, do it – even just over the Christmas period. It'll show your employees that you're thinking about their work-life balance and trying to make their lives that little bit easier, especially around the festive season when events and family commitments can make things particularly hectic.
Similarly, if you've got the resources to gift your employees with extra time off – even if it's just a few days over Christmas or a three-day break anytime of the year that they choose, it's a great way to boost morale and wellbeing in your team.
4. Virtual or in-person events
If you're working remotely as a team and are looking down the barrel of a Christmas party on Zoom, plan a themed party to make it fun – and send virtual event gift packs to your team that tie in with the event.
For example, a virtual cocktail party might involve hiring a mixologist and sending your team a pack of mixers so they can learn how to mix cocktails together over Zoom. Or, you might put together a paint'n'sip party and send your staff a box that has wine, an mini easel, canvases and paints so you can all get messy (pun intended) on Zoom.
If you're able to hold in-person events, consider planning some pre-Christmas fun for your employees that might double as a good team-building exercise. A paintball day, a wine-tasting weekend away, or even a trip where they can bring their families might all be appreciated.
5. Hold an awards ceremony
Public praise and recognition can have a huge impact on employee morale and performance – and what better way to do it than at an end-of-year awards ceremony?
Stand up and recognise every employee for their achievements over the past year or simply why you're glad they're part of the company. You could give out company awards or Christmas presents with a heartfelt card attached. And take the opportunity to make it fun with humourous awards and maybe a gift raffle.
6. Support the community
And having a giving tree in the office where employees can put presents for those less fortunate or hang a tag nominating their donation to a specific charity. You can track how much you've raised as a company for charitable causes and announce it at the end of the year, so everyone can take pride in their contribution.